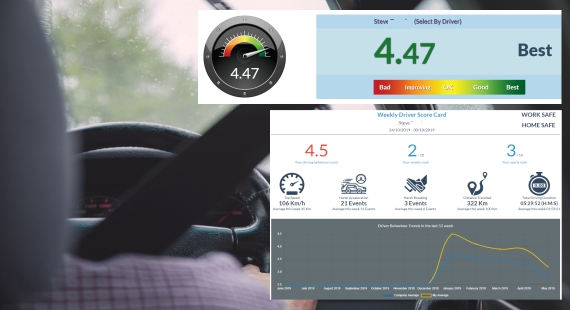 "From the top down business owners, directors & managers all share responsibility in providing a safe workplace for all staff including field workers"
IntelliTrac's IVMS Driver Behaviour Management Solutions combine a number of modules ensuring compliance is met by your organisation. They include:
Driver Identification. Know who is driving each vehicle at any time
Driver behaviour analysis
Driver behaviour coaching
Driver fatigue reporting
Driver fatigue rest break reminders
Contact Us For More Information
Driver Behaviour Analysis
IntelliTrac provides a number of driver behaviour analysis software tools from a holistic helicopter view of the whole fleet to individual departments and drivers including trend analysis and benchmark comparisons.
Scorecards may be automatically generated and emailed to individual staff, line managers and regional managers on a regular basis.
Staff may also drill down into individual score cards showing detailed analysis of driver behaviour patterns related to speeding, braking, acceleration, cornering and tailgating.
Risk analysis is also provided by IntelliTrac which further drills down in to specific factors such as time of day travel, familiarision of route, & road classifications.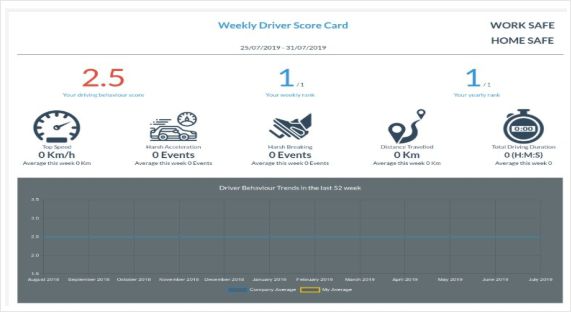 Advanced Insurance Telematics Based Driver Behaviour Analysis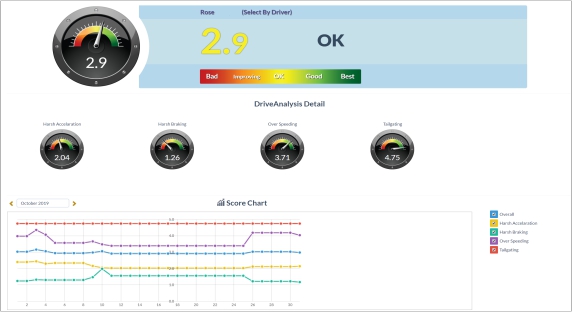 IntelliTrac's advanced driver behaviour scoring algorithms have been developed in conjunction with major insurers and research facilities to provide accurate scoring of driver risk, based on a number of conditions including:
Monitoring variable levels of harsh braking
Monitoring variable levels of harsh acceleration
Monitoring harsh cornering
Calculating average trip lengths & analysis of trip segments
Time of day travel
Familiarity with travel route
Road attribute classification such as sealed, unsealed, single lane etc.
Posted speed limit adherance
Excessive speed monitoring
and much more
Managers and Drivers are able to generate drill down reporting & journey replays to anaylse where critical driver behaviour non compliance has been detected.
IVMS Exception Reporting
IntelliTrac has developed flexible IVMS reporting to comply with most Mining Oil & Gas requirements in Asia Pacific. The reporting includes flexible tolerances when reporting on the following events:
Excessive Idle
Extended Idle
Excessive High Speed
Overspeeding within geofence
Speeding against posted speed limit
Seatbelt not worn when vehicle speed exceeding "x" for time period "y"
4WD not engaged on unsealed roads when traveling more than "x"kph for more than "y" seconds
Battery disconnected, Battery Low & Backup Battery Low
SOS Button
Rollover or impact detected
Fatigue Management Duty Cycle reached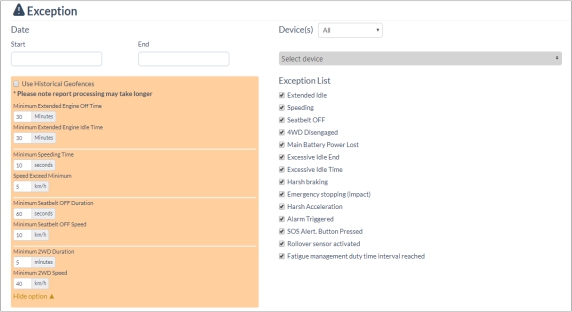 "RAG Reporting" Industry Standard
IntelliTrac's IVMS software suite provides industry standard RAG leaderboard reporting with flexible tolerances providng the following information:
Distance & Duration of travel
No of Harsh Braking, Acceleration & Cornering Detected
Time exceeding posted or max allowable speed limit
Top Speed detected
Overall RAG Scored